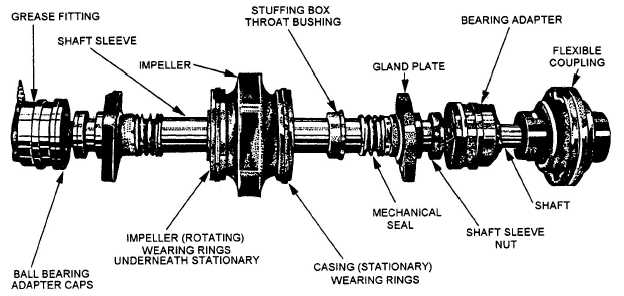 Need for rotating shaft sealing
Why it is important to seal a rotating shaft with mechanical seals
Need for rotating shaft sealing
Since their inception, mechanical seals have carried with them a mystique of "Gee Whiz", bizarre, physics defying properties that have baffled the untrained observer. But that impression is really misplaced. Mechanical seals are not magic by any means and actually perform well within the realm of easy to understand principles of physics and hydraulics.
Mechanical seals are simply another means of controlling leakage of a process where other means are deemed to be less capable of performing the task adequately. For the purposes of this discussion, consider that a mechanical seal will out-perform common types of packing.
As mechanical seals can be used to seal a myriad of different products on an equally vast array of equipment, we will be primarily focusing on the use of mechanical seals on rotating shaft pumps. Since our subject is dealing with pumps, let's first explore a basic understanding of the need to seal a process liquid in a centrifugal pump.
Gland packings for mechanical seals
Simply fills the space between the shaft and inner wall. Remains static at all times.
If packing starts to drip, tighten the gland follower to increase compression pressure on the packing and reduce the drip.
Defining features are cross-section, designed to fill space with only one layer, and fibre material, different lubrication levels, strengths & chemical/temperature compatibilities.
Downside – Never makes a complete seal, allows vapours to leak. Constant abrasive contact with rotating shaft generates heat and wears shaft.
Normally two components, one sealed to and rotating with the shaft, one sealed to and remaining static in the housing. Each part has a technically flat polished sealing face. The polishing allows the rotary face to run against the static face while generating the minimum of friction. A small amount of media enters between the faces and acts as a running film further reducing friction. This film evaporates before it reaches the inside of the running faces.
rotating shaft sealing, controlling leakage of a process, mechanical seals on rotating shaft pumps, understanding principles of physics and hydraulics